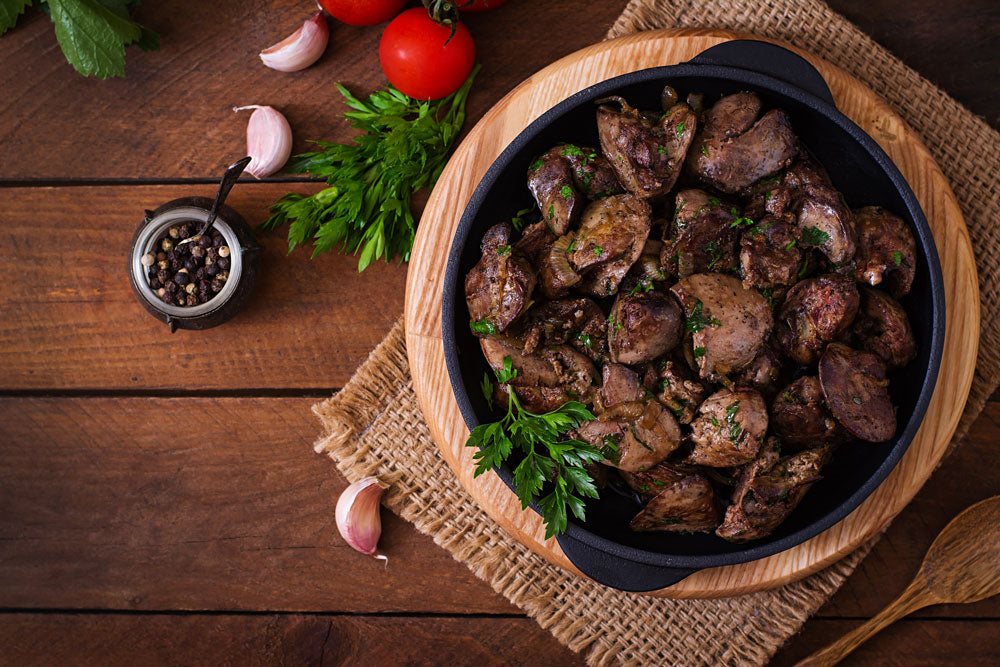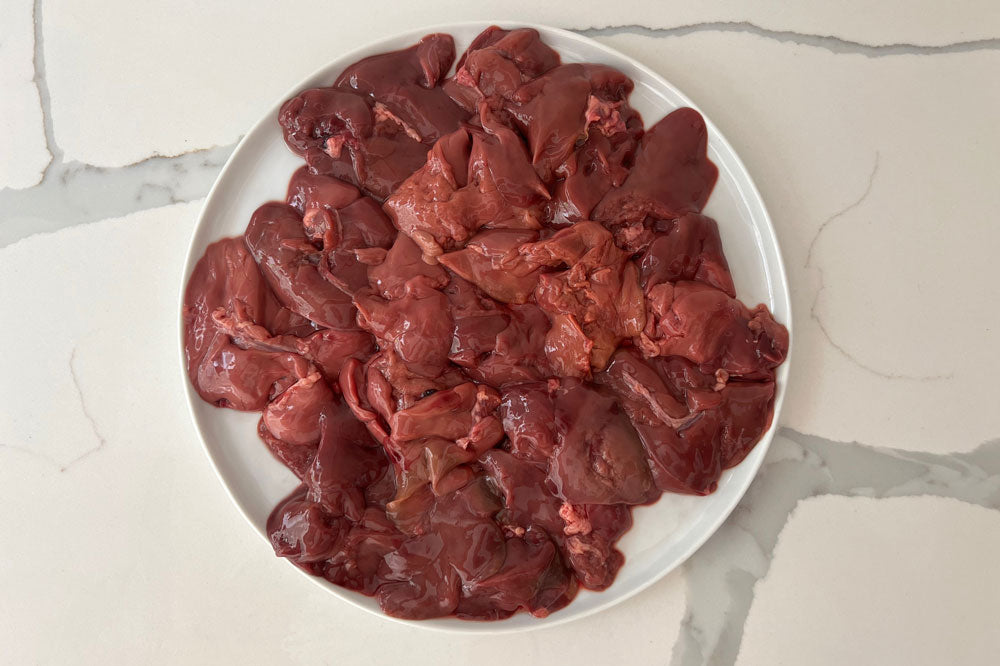 Pasture raised chicken liver is one of the World's greatest "superfoods"
Chicken livers are loaded with essential vitamins and minerals, while a rich source of protein. Each serving of chicken liver contains 99% of our vitamin B12 requirements, 81% of our vitamin A requirements, 38% of our riboflavin and 39% of our folate requirements to name a few. Plus, it's rich in iron and selenium to boot.

To prepare, you can pan-fry with onions, mushrooms, and veggies. Turn it into pate. Or, simply add a small amount to your scrambled eggs in the morning. But, there are a number of ways you and your loved ones (including our furry friends) can incorporate chicken liver into our diet to boost our nutrients through real food.
You'll receive:
1 package of Chicken Livers (each package is 1-1.5 lbs)
What to expect:
Each package of meat is individually packaged, frozen, and will last about a year in your freezer. Your chicken items will be individually packaged, and frozen with dry ice in a fully recyclable container.
FOOD AS MEDICINE

Let's compare Pasturebird to barn-raised chicken:
3x more omega-3s

50 % more vitamin A + E

21% less saturated fat

6x more glutathione

4x more adenosine triphosphate

12 - 17x higher in certain dipeptides

3x more nadh

2.5x more quercetin

50% more creatine

NO GMOs — EVER

NO ANTIBIOTICS OR STEROIDS
THIS IS PASTUREBIRD
(no seriously — this is our actual farm!)
We believe nature is our partner, not a resource. So we do everything we can to perpetuate and preserve the natural rhythm of our farm, constantly keeping our chickens moving so we can follow nature's path.
We're proud of that, and we think you should be confident when it comes to buying Pasturebird chicken. Our birds are raised outside on pasture 24/7/365 where they can forage for grasses, bugs, seeds, and worms. They move to fresh pasture every single day, and we've never given them a single antibiotic or drug.
We're a family farm that believes in the regenerative power of pasture raised livestock for land, animal, and community. We're honest and transparent for better or for worse, because we know we have much more to learn on our journey together.
"The first thing I noticed was that the meat wasn't practically white like the organic boneless chicken at Costco. It was pink, as it should be because the birds were able to forage naturally. The cooked chicken breasts were delicious and even my somewhat oblivious husband raved about them!"